Cruise on the Nile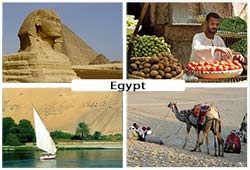 This boat cruise between Aswan and Luxor, in Egypt, was the occasion to meet with the beauty of this country where the treasures of the past are at every corner: temples of Karnak, Luxor, Edfou and Esna. But Egypt is firmly facing the future, taking advantage of its touristic assets such as its ancestors inheritance and a generous weather.

Along the mighty Nile, we enjoyed this wonderful cruise and took photos capturing Egypt landscapes, scenes of everyday's life and of course temples.

This page welcomes you to a virtual tour of Egypt in three topics: landscapes, temples and egyptian people.
Photos of Egypt

Egypt is synonymous of history, the striking pharaohs era and its relics of the past.
Egypt temples impose respect because of their huge sizes and the history theyr represent.
These few photos of Edfu, Karnak, Luxor and Esna temples carry you back to the past...

Egypt is animated by a great activity, especially on the market places where toutists look for exotism and egyptian people shop for their everyday's life.
This category is dedicated to egyptian people

In Egypt landscapes are highly contrasted. We can define three categories:
on the Nile, nautical landscapes including boats and traditional feloucas,
on the banks, living landscapes with villages and cultivated lands,
getting away from the Nile, landscapes get drier and drier which is where the desert begins
Best time to travel to Egypt

It is best to avoid summer because the temperatures are way too high. Apart from that you can travel to Egypt all year round.