Travel to Tunisia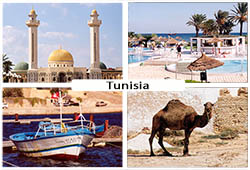 Seaside Tunisia
Tunisia is a beautiful country bathed in sunshine and bordered by the Mediterranean Sea. A trip to Tunisia is often associated with the beach and idleness and there are many seaside resorts such as Djerba or Skanès-Monastir.

This was indeed my primary objective: rest and I must say that everything was done to achieve it as the hotel-club was ideal with its swimming pools, its beach and its access to the sea.

But now, even tired, I I needed to explore the country and its inhabitants!
Discovery of Tunisia
Although we enjoyed the benefits of the sun and the sea during the stay we decided to also explore the country. During our stay we took our camera from Sousse to Monastir via Kairouan, enjoying the landscapes and local life.

Tunisia is a country of great cultural richness with ancestral traditions passed down from generation to generation. But we discovered that Tunisia is also a young, colorful, bon vivant country with an extraordinary culinary art: from couscous to oriental pastries, we really enjoyed ourselves!
Why this photo report?
Through our photos we try to transmit the emotions we felt during our trip in order to share with you our vision in photos of Tunisia: landscapes and scenes of everyday life such as markets and souks, photos from souks, photos of landscapes and people of Tunisia.

To start the virtual trip to Tunisia from Sousse to Kairouan via Monastir, visit the page photos of Tunisia where you will find pictures of landscapes and Tunisian people.
Photos gallery

Selection of the best photos of the trip mainly focused on landscapes, Tunisians and local culture.
About my stay in Tunisia
The goal of this trip, one of the very first in a long list, was clearly to rest after several months of hard work.
To do this, I had chosen a hotel-club in Skanes- monastir for a seaside holiday, a style which at first glance hardly suits me (those who regularly follow my photo reports will easily agree).
Indeed, from the first day, and despite my state of fatigue, I did not spend more than an hour on the beach. I was irreparably drawn by a desire to discover the surroundings of my hotel, the landscapes, the people, the culture, etc.

Thus, for a week, I explored the near surroundings of Skanès-Monastir, from Sousse to Kairouan, using the taxi as a means of transport.
Best time to travel to Tunisia
You can travel all year round in Tunisia but to avoid the hot weather it is better to aim for the off-season, between April and June or September to December. The temperatures are ideal, there are fewer people, the trip is all the better.