Ecotourism in Costa rica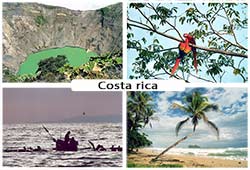 Costa rica is located in central America. its western border is the pacific ocean and its easter one is the caribbean sea. Despite it is a volcanic land of only 51 100 km², Costa rica has got an impressiv diversity of landscapes : volcanos, jungles, white sand beaches, cofee plantations and so on. The country is also home of a very rich wildlife including 800 species of birds.

Our stay in Costa rica lead us to the pacific coast, particularly the Nicoya peninsula, the caribbean coast as well as the central valley. For more details see our detailed itinerary and a map of Costa rica.

Costa rica is a tropical country with two seasons, the dry season which goes from decembre to april and the wet season from may to november.Temperatures are good all year long (25° to 30°C).
Discover Costa rica through our photos and travelogue

Because of bad weather conditions on the caribbean coast, you'll find mainly landscapes pictures of the pacific coast of Costa rica and Irazu volcano as well as a few pictures of flowers.
25% of its territory is protected which makes Costa rica an example to be followed as far as nature protection is concerned. Animals take benefit from these measures as they live quietly in tropical rainforest, mangroves or jungles. Moreoften they are quite difficult to see in these dense landscapes but we managed to spot some interesting specimen such as blue jean frogs, sloth...
About our trip to Costa rica
Like the vast majority of our travels we organized these holidays as a roadtrip. We simply booked in advance the rental car and the plane tickets. The rest of the trip was improvised, notably according to the weather forecast.
Best moment to travel

The best moment to go on holidays in Costa rica goes from decembre to march beecause it's the driest season, even though our trip will remain an exception!