Travel to Antarctica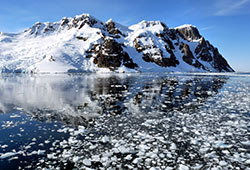 Antarctica is one of the most extraordinary place on earth - a spectacular wild area covered in ice, snow and rocks yet abounding with wildlife.
Its gargantuan icebergs and glaciers, towers of ice the size of city blocks, can be found nowhere else on this planet; its huge mountain range and the emptiness of polar plateau are beyond belief.
Antarctica is the coldest, driest and in average the highest continent.
One must deserve Antarctica
Yet witnessing this immaculate harshness has to be earned in an unpleasant journey through the dreadful waters of Drake passage, between Cape horn and Antarctica peninsula.
Fragile, yes ! Because of global warming which dramatically changes Antarctican balance.

This photo and video travelogue is aimed at showing the world the beauty of Antarctica. It is also a way of sensitizing people on the fragility of our planet.

By travelling to Antarctica I myself contributed to global warming. This is why I offset the carbon footprint of the flight and the cruise.
Photos and travelogue

breathtaking landscapes, wildlife struggling to survive, Antarctica is a tragic beauty. Get on and cruise virtually through our photos!

follow day by day this fantastic trip to Antarctica: Drake passage, kayak expeditions meeting with wildlife.

relive the higlights of my Antarctica cruise: kayaking with whales, icy landscapes and wildlife (leopard seals, penguins, skuas...).
Best time to travel to Antarctica

The best time to cruise Antarctica is from november to march, with a preference for january if you hope to see whales and baby penguins.
If you go too early, as the ocean is still packed with ice there are many place you won't be able to discover, especially if you opted for kayak expedition. On the other hand if you want to see Antarctica full of ice then november is the right time to cruise along the white continent.
I chose january because I am interested in wildlife. I saw plenty of humpback whales and Minke whales as well as penguin chicks ans leopard seals.