4x4 roadtrip in Namibia and Botswana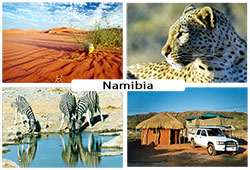 This three weeks stay in Namibia and Botswana (1 week in Botswana, 2 weeks in Namibia) enabled us to discover this Africa where nature is still very wild.
From Botswana to Namibia we felt really free thanks to our 4x4 equiped camper. It was easy to stay close to nature at any time.
If you are preparing your travel to Namibia or Botswana, you might like to have a look at our program in Namibia and Botswana on this page Namibia Botswana itinerary.
Animals photos come from Namibia (Etosha) and Botswana (Moremi), landscapes photos mainly come from Namibia (Namib desert).
Travel to Namibia or travel to Botswana to reach full freedom and take time to live. The 3 weeks holidays were just wonderful as we only had to think of the places we wanted to visit, the wildlife we wanted to see, no pressure, we had all the time in the world to enjoy travel to Namibia and Botswana.

Should you have any questions about Namibia or Botswana, feel free to contact us.
Namibia insights:
Extraordinary landscapes of Namib desert, diversity of wildlife in Etosha national park represent the majority of the photos.
Namib desert is the older desert in the world, its dunes and landscapes just leave you voiceless, the dead vlei where time seems to have stopped is a distressing beauty. This desert, majestic and hostile meets the atlantic ocean in a brutal transition.
Further north we traveled through the stony plains of Damaraland.
The quality and richness of Namibian wildlife is no longer to prove. Etosha national park is one of the several places where you can observe all sorts of african wild animals in their natural land.
Namibia is a fantastic destination for the tourist in love with nature he can observe and must respect.
Botswana insights:
For us, Botswana remains the country of autral africa where nature is the wildest. Almost nothing is set for roots travel. First it is quite surprising but it finally becomes very exciting for whom likes adventure and total change of scene.
Kalahari desert, Okavango delta, Chobe park Moremi reserve are the landscapes you'll see through our Botswana photos.

Enjoy your travel (virtual or not) to Namibia and Botswana.
Photos and travelogue

Namibia and Botswana landscapes, Namib desert sand dunes, dead vlei, desert Damaraland landscapes, Okavango delta, bushmen village from Botswana, baobab andkokerboom... Follow us in a virtual trip to a magical and captivating austral Africa!

Wildlife of Namibia and Botswana: lions, leopard, cheetah, jackals, bat-eared fox, zebras, giraffes, elephants, oryx, rhinoceros, hippopotamus, bustard, springboks, kudu, wildebeest...

You'll find more than fifty wild animals among which this leopard and a wary meerkat.

If you are wondering which are the places we stopped for the night, check the detailed map highlighting our itinerary in Botswana then in Namibia.
Best time to travel to Namibia and Botswana

We think september and october are the best months to travel to Namibia and Botswana : it is the beginning of spring and the temperatures are not too high.