Welcome to Scotland!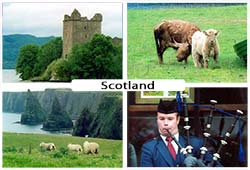 This scottish landscapes photo gallery displays images from Edinburgh, Inverness, the famous Loch Ness, Glencoe, Eilean Donan and Urquhart castles, Duncansby head near John o'groats and the Highlands, a remarkably protected area where lives the famous Highlands cow.

A one week self-drive tour is short but we tried to make the most of it, despite the scottish weather.
Scotland... Its gorgeous landscapes, relaxing lochs, legends, friendly and generous people, a capricious weather and a very rich history !
Whether you prefer to hike, to visit museums, to play golf or to quietly watch wildlife, Scotland can fulfill all your needs.
It is a destination where boredom is not possible !

Scotland is consequently a perfect spot for photographers...when the weather is on your side.

Let's start the virtual tour of Scotland from Edinburgh to Inverness and the Highlands through our Scotland photos where you'll see either landscapes or animals photos like Highlands cows, sheeps, puffins...
Photos and travelogue

Wild landscapes of the Highlands and the northern coast subject to rough weather which sculpted the landscape. But also landscape around Inverness with the famous Loch Ness and finally panoramas of Edimbourgh.

Follow day by day my trip to Scotland on a map and read our impressions.
Best time to travel to Scotland

It is best to travel to Scotland between may and september, ie between the end of spring and the beginning of summer. This is when you'll have the best chance to encounter fair weather... but in Scotland you never know!