Photo and video of the helicopter flight over Paris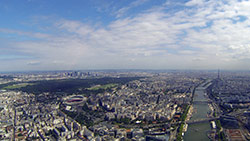 Do you want to treat yourself? Are you looking for a gift idea in Paris or in the Paris region?

The helicopter flight over the capital is what you need! Out of the ordinary, this is the occasion for a first flight in a helicopter to discover the pleasures of flight, moreover in an environment of choice.

Emotions and sensations guaranteed!
Video of the flight from Saint Cyr to Paris
I offer you a video montage of part of the circular flight departing from Issy les Moulineaux: the branch departing from St Cyr with as a bonus take-off, flush with the fields, impression of guaranteed speed!

Then it is the approach to Paris by flying over the Seine and the view of the characteristic places of the capital before landing on the grass runway. The video footage was shot with a GoPro that I was holding in my hand. I was positioned at the front of the helicopter, right next to the pilot.
Is the flight over Paris authorized?
No, it is not possible to pass over the city during sightseeing flights. Only civil security and medical flights can fly over Paris without constraints.

Flights dedicated to tourism must remain outside the ring road, which already makes it possible to obtain beautiful panoramas of Paris and its monuments. That said, during my helicopter flight between Saint Cyr aerodrome and the Issy les Moulineaux heliport, I was able to have a superb view of all of Paris when arriving from the west. Flying over the Seine at low altitude, I had in front of me the alignment of the bridges with a bird's eye view of the Eiffel Tower. On my left, the district of La Défense, the Bois de Boulogne, the Parc des Princes etc while at the other end of Paris I could clearly distinguish the Bois de Vincennes.

Among the monuments or remarkable buildings, I easily spotted the Sacré Coeur, the Montparnasse tower, the Invalides and the avenue des Champs Elysées.
Cost of a helicopter flight over Paris
This is the negative point of the helicopter: it is expensive. That said, there are many possibilities to have fun at a lower cost thanks to offers such as private sales, groupons or other smartboxes.

For 150 to 200 € it is possible to do about 30mn of flight which is more than enough to admire Paris and its surroundings.