Welcome to Mexico!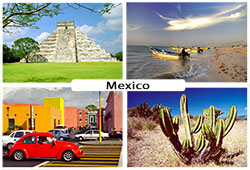 Our trip was dedicated to southern Mexico, from Mexico city to Yucatan peninsula and Oaxaca. Indeed, as the country is big, we made a choice and the south appeared more interesting to us... and we didn't regret!

Historically and culturally, Mexico is definitively rich but nature also did things well giving the country beautiful landscapes which made this trip unforgettable.

We propose to show you our Mexico photos as followed: landscapes, relics of the past and modernity, wildlife, art and craft.
What for? We simply would like to convey the feelings we had while travelling to Mexico and maybe give you the idea to visit this great country. And if you can't physically travel there right now, you can at least spend a little time travelling virtually.
Photos and travelogue