South Africa travel guide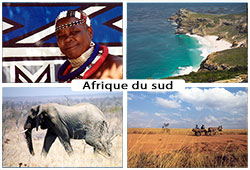 This page is an open window towards our travel to South africa, from Johanesburgh to Cape town via Kruger park et Hluhluwe-Umfolozi park, saint Lucia game reserve.
Why travel to South Africa?
Why would you travel to South africa ?
Because South africa is a country with multiple aspects. Landscapes of South africa are very changing and delightful as you can see in landscapes of South africa.

Because South africa is marked by its history which shaped the country. South africa, like several other african countries has got a lot of ancient customs which younger generations perpetuate. Follow us in people and customs of South africa.

Finally because South africa has huge natural wealth among which a bulk of wild animals. South africa wildlife lives freely in the different game parks and reserves. Check the animals photos in South africa wildlife.

Travel to South africa is pure happiness for the eyes and all senses. That's why through our photos of South africa we tried to make you want travel to this beautiful country. And to get information about our stay you can browse our South african travelogue.
Through this site we propose a virtual trip to South africa spiced up whith photos and travelogue of our own stay.
South africa images
will introduce you to South africa, wildlife photos will sharpen your curiosity for South africa and finally, landscapes photos of South africa will entice you... will you resist to visit South africa ?
You are preparing a trip in South africa, you are hesitating on the program, which parks to visit... it's true that South africa is immense and you'll have to target your stay. That's why, should you have any question about South africa, feel free to
contact us
, we'll answer as soon as possible to share our experience on South africa.
Other african wildlife and landscapes photos are available here :
Namibia Botswana
and
Zimbabwe
.
Photos and travelogue

South africa is a wide country revealing gorgeous landscapes that you can enjoy through our photos.

The cultural wealth of South africa is exceptional. Besides, the different tribes ensure its transmission. Find more about it through our photos.

South africa is home of a great variety of wild animals living in wide national parks. Check out our wildlife photos.
Best season to travel to South africa

We believe spring (september/october) and austral winter (june/july) are the best seasons to travel to South africa. Spring because although the sun is generous, the temperature is not too high which makes it perfect for south africa safari. And winter because of the warmth and beautiful light.